Lambeth & Southwark Food & Fun Summer Programme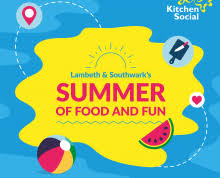 Summer Is Here!
Lambeth and Southwark have joined forces to provide London's largest holiday provision provider, Kitchen Social, to host an exciting summer programme of food and activities across the two boroughs called 'Lambeth and Southwark's Summer of Food and Fun'. There will be 85 programmes across both boroughs for children of different ages and with different interests for an inclusive and holistic programme of nutritious meals and fun activities for children and young people (0-19 years old), their families and/or carers. The programmes will be held at local hubs or delivered remotely to accommodate social distancing guidance. The programme will run for 6 weeks between the 22nd July and 2nd September.
You can register by visiting www.summeroffoodandfun.org.uk and by contacting the hub you would like to attend (details of the different hubs can be found via the online brochure).